Review – CaJohns Trinidad Scorpion BBQ Sauce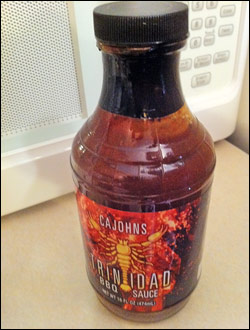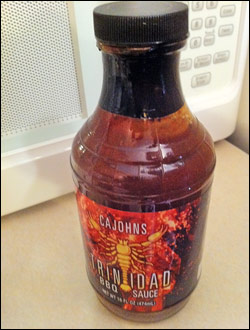 CaJohn's Fiery Foods (headed by John "CaJohn" Hard) not only plays with some of the hottest chile peppers in the world, but more importantly are able to expertly utilize the flavor of the chiles to make a great tasting sauces, salsas and seasonings. While I certainly won't kiss CaJohn's ass – I told him that his limited run of Pumpkin Salsa wasn't a good product – he fact remains that he has an incredibly high batting average when it comes to releasing quality spicy products to the masses.
Within the past year CaJohn has introduced his Trinidad lineup of products, which have employed the world's hottest chile pepper both in taste and in hiccup-inducing heat. Now, he originally used two variations of the Trinidad Scorpion peppers – the Guinness Record-holding Trinidad Scorpion Butch T and the newer and even hotter Trinidad Moruga Scorpions – in his Trinidad brand because of similar heat, flavor, and availability of pods (from what CaJohn has said, it is my understanding that are probably more Morugas than Butch Ts). So either way you look at it, these hellish products contain the current hottest the chile pepper world has to offer.
I'm going to cover CaJohns Trinidad Moruga Scorpion BBQ Sauce this time around. Let's fire up the grill and see if this Trinidad sauce can light a fire in my mouth!

Copyright 2011 ScottRobertsWeb.com.