Toronto Hot & Spicy Food Festival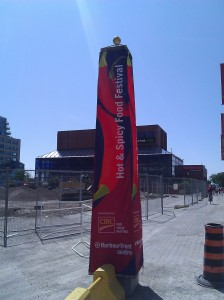 Saturday morning I jumped on the bike and headed down to the Toronto Hot & Spicy Food Festival.  This is first time I have been back in about 7 or 8 years.  The reason being is that back then it was a poorly organized affair and not much to offer.
Seems though that time has treated the festival well and it now has legs of its own.  It is a three day festival at the Toronto Harbor Front Center and is free for all to attend.  Even if Hot & Spicy is not your thing there is still so much to see and at the harbor front it makes for a great day out.
I made sure to head down first thing before the crowds arrive.  It didn't take long before the throngs made its way down and within a half hour all the vendors were busy.  I was just there to visit the vendors, but throughout the three day event there is music, cooking shows, demos. etc……
It was good to see how this festival has improved over the years.  Toronto now has a Hot and Spicy Food Festival to be proud of.  Thanks to all the vendors (A big shout out to Chetty) for taking the time to speak with me and letting me learn about their products.