How to Make Naga Jerky on the Big Green Egg
Yes, I have two Big Green Eggs. I've had egg #1 since moving to TX in 2007 and egg #2 was just acquired about a month ago. I had a 20% off coupon to a local egg dealer and couldn't pass it up. BGE's are rarely on sale, so I jumped at the chance after saving some pennies. Once I had egg #2 home, I started venturing out with new recipes and smoking techniques. I had never made jerky on the egg before (no clue why), so that was one of the first projects I decided to tackle. This is now my 4th attempt at jerky on the eggs – each one more delicious then the other.
Step 1: I bought 2 top rounds from Sam's Club on Thursday evening and prepared to prep them Friday morning (they need to cure for 24 hours before smoking). Trim the fat caps from the rounds and then slice into 1/4 inch chunks/strips. As you go also trim the fat from the slices – this is the detail work. Then layout on a sheet pan and coat with seasonings per the directions. I used 1 tablespoon of cure with 1 1/2 tablespoon of seasoning per 2 lbs of meat. (My 5lbs was reduced to 3lbs or so when the fat was trimmed). Bag and tag the jerky (label it if doing different flavors) and then refrigerate for 24 hours. I typically do 3-4 flavors each time I make jerky, constantly experimenting with flavor combinations. For the Inferno Seasoning, I used 4 dehydrated Nagas and 4 dehydrated chocolate habaneros. The peppers were ground to a fine powder and then mixed with the cure.
Step 2: The Big Green Egg Prep. You need to get your egg to 200 degrees – for 7 hours. How you do it is up to you, but this is how my setup worked (and it worked great!). I first started the egg using my electric starter, got them to 500 degrees and then began shutting the top and bottom vents. In stage 1, I shut the bottom vent 3/4 of the way and the top vent about 3/4 of the way as well. That brought the temps down to 350 after about 30 minutes. I then added the apple wood chips (soaked for 2 hours) and the plate setters with a drip pan on each. In the drip pan I just put water, some rosemary, bay leaves and a jalapeno (fresh from my plant). Then I shut the eggs again and closed the vents even further (see picture below) and waited another 30 to 45 minutes until the temps hit 200.
Step 3: While the egg is coming down to temp, you can get your jerky ready to smoke. This time around, I took my grills inside and arranged the jerky there. This helped immensely in making sure the eggs didn't smoke too much. I was able to arrange the jerky without being rushed and the eggs didn't flare up.
Step 4: Smoking. Now your egg is at 200 degrees, you can put the meat on. And now you wait. No peaking. Except every 1 1/2 hour to turn the jerky – you want to turn it to make sure it smokes evenly and that pieces near the outside don't get to dry – do this quick and carefully, otherwise you'll lose heat and meat can fall through the grill and the temp will flare up. I started the first batch of jerky around 9am on Saturday, ran errands, came home, turned the jerky and continued with my weekend projects while it cooked.
Step 5: Nom nom nom. I smoked my jerky for 7 hours. It was done around 5 hours – but I like mine a little smokier and dry. And after 7 hours, it still came out delicious and moist. The Naga spice is a great touch – I'll need to use more next time as it's not that hot. The heat lingers for a bit but then goes away. Next round of jerky, I'll be trying out some new dry rubs and possibly another shot at using a wet marinade.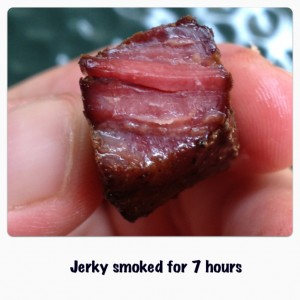 Now my mouth is watering for more!