More Proof That Hot Sauces Are Now Mainstream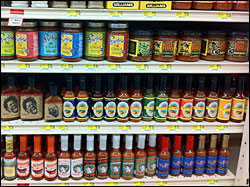 As if any one needed more evidence that hot sauces and spicy cuisine are mainstream, here it is.
Upon a recent visit to my local Shop N' Save, a grocery store that is as middle America and "white bread" as can be, I happened upon an expanded hot sauce section that's been introduced within the past two weeks. This establishment happened to be the very supermarket that I did a photo documentation on all of the fiery foods they had for sale. Anyway, just a few days ago I saw a few burning brands that 5 or 10 years ago were only present on the shelves of gourmet or hot shop shops…Copyright 2012 ScottRobertsWeb.com.