New Chile Peppers From Jim Duffy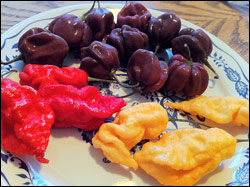 Chile grower Jim Duffy of Refining Fire Chiles was kind enough to send me some of his super-hots to sample earlier this week. Included were some brand new varieties, such as the Chocolate Scotch Bonnet, the Jay's Red Ghost Scorpion, and the Jay's Peach Ghost Scorpion. Thanks, Jim!
Below are close-up photos of the new chiles. While I have not chomped down on a whole pepper pod of any of these yet, a sliver or two cut off of each was able to give me a good idea on the flavor and heat…
Copyright 2012 ScottRobertsWeb.com.