Review – Crosbie's Hot Sauce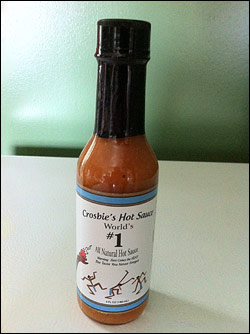 Another "all-purpose" hot sauce coming your way, this time courtesy of Crosbie's Hot Sauce, based out of Philadelphia, PA.
The bottle's label makes the claim of this being the "World's #1 All-Natural Hot Sauce". I don't think anyone could prove or disprove that little fact, so we'll let that slide by. According to their company website, the Crosbie family was been doing this for 40 years. They go on to state, "we started manufacturing our sauce for everyone to enjoy using spices originating in Africa and the Caribbean Islands. It was hot and tasty then and still is today."
Since it's been a while from my last review of a straightforward pepper sauce, I couldn't wait to sample this one.

Copyright 2011 ScottRobertsWeb.com.