Review – Da Secret Sauce Hawaiian Chili Pepper Water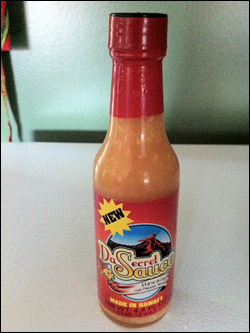 Ah, Hawaii. I'm ashamed to admit that I've never visited the beautiful island paradise of our 50th state. I've been to my fair share of luaus, but native Hawaiians probably know that the dancing, the tiki torches and roasted pig only showcase a miniscule fraction of Hawaiian culture and (no pun intended) flavor.
A lot of us have long known about the pepper-flavored vinegar, especially the variety that appears in bottles on some U.S. diner tables with the smaller sport peppers that float in the liquid. I've never been a fan of those, as I like more of a chile pepper flavor and presence instead of a splash-on condiment tasting like 98% vinegar. "Chili pepper water" is a variant that appears in Hawaii and is typically a bit more flavorful than the aforementioned diner version, as chili water often includes garlic, salt, ginger or mirin (a sugary Japanese condiment), in addition to the Hawaiian chile peppers (varieties of capsicum frutescens) plus vinegar and water.
Da Secret Sauce is a Hawaiian company that contacted me some months back and requested that I review their own spin on the chili pepper water, and below are my thoughts. They had also given me …
Copyright 2011 ScottRobertsWeb.com.