Review – Griffin's Wing Sauces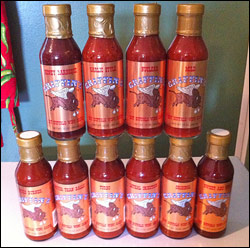 I don't know much about Griffin's Wing Sauce, other than the fact that it's owner, Mike Griffin, hails from Levittown, Pennsylvania. He contacted me a few months back and inquired about doing a product review for all 10 of his sauces. His website, http://www.griffinswingsauce.com, doesn't provide much in the way of info, either, other than proclaiming that Griffin's Wing Sauce has been around for a while, "burning mouths for 25 years".
I finally got a quick chance to meet Mike at this year's Peppers at the Beach, and he informed me that he was in the process of updating his bottle labels (more on that later), and I also got a chance to taste a few of his wing sauces before I was able to open the review products at home that he had shipped me. Even though at the time I sampled the sauces by themselves with the aide of actual chicken wings, I thought they had some promise.
Finally, about a month later I fried up a gargantuan amoutn of chicken wings at home and put all ten of Griffin's wing sauces to the test. Milk and unsalted crackers were eaten between each one to help better judge each sauce on its own…

Copyright 2011 ScottRobertsWeb.com.