Review – High River Sauces Top Fuel Verde Hot Sauce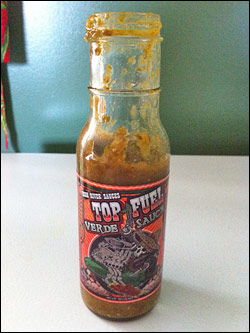 This product is the brainchild of Steve Seabury of High River Sauces (I had previously reviewed his Tears of the Sun Hot Sauce and Hellacious Hot Sauce), Ratt lead singer Stephen Pearcy, and Chef Chris Santos. Seabury has hit pay-dirt with the aforementioned condiments so I was excited to put his latest, High River Sauces Top Fuel Verde Sauce, out on the culinary race track.
There at times are products that have somewhat of an identity crisis. Whether intentional or not, a sauce may be marketed or is implied to be for a particular usage but in reality may be better as something else. I find that in the case of Top Fuel Verde Sauce. When I think of a "verde sauce," visions of Mexican spin in my head. Yet this is NOT good for South-of-the-border fare.
Let me explain briefly that this sauce contains olive oil. Any number of varying types of oil in a pepper sauce are generally considered to be odd at best, and at worst forms an off-putting flavor and texture dynamic. There are a couple of well-known chileheads out there who have already expressed their displeasure with Top Fuel Verde Sauce because of that (and I'll let them identify themselves if they chose), yet I think this sauce works if used with the right food. What is High River Sauces Top Fuel Verde Sauce suitable for? More on that later in the review…
Copyright 2011 ScottRobertsWeb.com.