Review – Hot Line Pepper Products Hot Sauces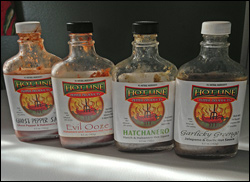 I'm excited about the next batch of reviews forthcoming from ScottRobertsWeb.com. The reason is simple: there are some outstanding products coming down the pike that you definitely should take notice of if you call yourself a fan of fiery foods.
The first in this short series comes from a a new company headed up by Houstonian Kerry Stessel under the banner of Hot Line Pepper Products. I first sampled these when Kerry visited ZestFest 2011 in Irving, Texas. As he made his way around the show floor, he stopped by the Bloggers Booth (with its lone person running it being me) and let me taste some out of his test bottles that he brought from his drive up. Now, if you've ever attended a hot sauce show, you know that it can be a dizzying proposition to keep track of the dozens – or even hundreds – of new products dished out by vendors. But I remember being impressed by the Hot Line Pepper Products offerings.
Now over two years later, I'm finally giving you this formal review of the four main Hot Line hot sauces – Garlicky Greengo, Hatchanero, Evil Ooze, and Ghost Pepper Sauce, in all their Texas-born glory…

Copyright 2012 ScottRobertsWeb.com.