Review – Lucky Dog Hot Sauces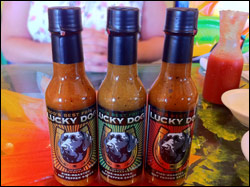 Sonoma, CA-based company Lucky Dog Hot Sauce is what Scott Zalkind started after his 6-plus-year hobby began to flourish. Zalkind fire-roasted chile peppers and garlic and combined them with other fresh ingredients into, in his words, "thick, savory and extremely versatile hot sauces" (that sounds good already!). He doesn't use pepper mash at all; and although he employs a bit of dried chiles, most of the flavor is derived from the unique, quasi-smokey tones of roasted peppers.
I was eager to try these because of that fact. So were my friends Brian and Marilyn Meagher of Hot Sauce Daily, who agreed to post a review of their own of Lucky Dog Hot Sauces. So, after you read my take on these fiery products, I urge you to jump on over to their website to read what they have to say about Lucky Dog…


Copyright 2011 ScottRobertsWeb.com.