Review of the HP22B Chile Pepper AKA Carolina Reaper, a Contender for the Hottest Chile Pepper in the World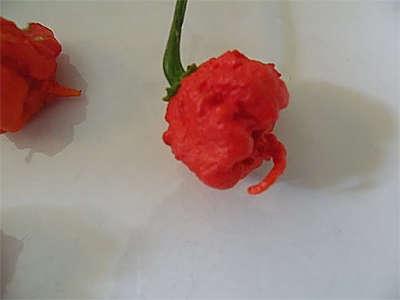 Another chile pepper test on camera. This time out I eat and cook with the HP22B Chile Pepper AKA the Carolina Reaper. This comes courtesy of Ed Currie of the Pucker Butt Pepper Company. THis is being touted as the world's hottest chile pepper with averages (not top heat numbers, but average/mean numbers) of over 1.4 million SHU.
It will be announced via press releases on Labor Day 2012 concerning its heat record claims, and that the Pucker Butt Pepper Company and Pepper Joe's will be the exclusive seed vendors.
While whether or not the Scoville numbers will trump the Moruga Scorpions or if the HP22Bs will become Guinness-certified is open for debate, these are indeed some of the fiercest peppers I've ever eaten.
Copyright 2011 ScottRobertsWeb.com.