St. Louis Wing Ding 2012 is Coming!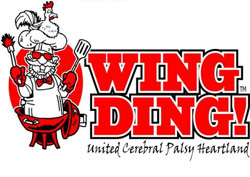 FOR IMMEDIATE RELEASE
Date: July 18, 2012
Contact: Ashlee Johnson, Director of Marketing and Development
PHONE: 636-779-2269
Email: JohnsonA@ucpheartland.org
Contact: Erin Wheeler Boyle, Asst. Director of Development
Phone: 636-779-2253
Cell: 314-265-9960
Email: BoyleE@ucpheartland.org
UCP HEARTLAND 2ND ANNUAL WING DING IN ST. LOUIS TO BE HELD ON
AUGUST 23RD, 2012 AT QUEENY PARK (GREENSFELDER ARENA)
Local restaurants will compete to see who has the "best chicken wings" in St. Louis at the 2nd Annual Wing Ding St. Louis. This year's event will be from 6:00 pm until 9:00 pm, August 23, at Queeny Park (Greensfelder Arena)!
This year's event will feature 20 restaurants from around the St. Louis area that will join together to compete for the title of the best chicken wings. Area restaurants will bring their wings to feed hungry connoisseurs and a panel of celebrity judges. For advance tickets call (636) 779-2253, or visit www.ucpheartland.org/events to purchase tickets online. Tickets are $25 per person for wings and two beverages, OR $50 for VIP which includes wings, unlimited drinks and a special "happy half hour" from 5:30 to 6 p.m. For general admission, doors open…

Copyright 2011 ScottRobertsWeb.com.