The Baron's School of Pitmasters!
The Baron's School of Pitmasters!
A first for New York City and a benefit for St. Mark Sports Association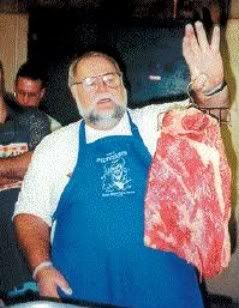 Paul Kirk, the legendary Baron of Barbecue, Barbecue Guru, Ambassador of Barbecue, Order of the Magic Mop, Certified Barbecue Judge, Kansas City Barbecue Society Board of Directors, Inductee into the KCBS Barbecue Hall of Flame, Author of numerous cookbooks and 1990 Chef of the Year Greater Kansas City ACF Chapter is coming to New York City to teach the Baron's School of Pitmasters.
When: Saturday October 21, 2006 – Rain or Shine.
Where: The Water Taxi Beach, 2nd Street and Borden Ave, Hunter's Point, Long Island City, Queens, New York. WTB is easily accessible from most major highways and public transportation and it has an incredible view of the New York City skyline.
The What and The Why: This class is suited for the back yard BBQ enthusiast, the seasoned competitor, or those considering opening a BBQ joint (restaurant).
The Baron will cover the basics of BBQing Brisket, Pork Butt, Pork Ribs, Chicken, and Sausage. He will also cover fire management, fuels, BBQ rubs and spices, BBQ sauce, contest presentation, among many other subjects.
How much: $250 per person – THIS CLASS IS LIMITED TO 40 ATTENDEES.
What do I need to bring: You bring your cooker, fuel,cooking utensils and whatever you'd need to cook outdoors. We supply the rest. (Meat, spices, rubs, etc.)

How do I get into school: Contact Robert Fernandez (bbqwhitetrash@optonline.net) aka WhiteTrash BBQ or Matt Fisher (hamptonsmoker@yahoo.com) aka The Hampton Smoker.
Don't miss this historic opportunity to learn with the one of the best. See you there!
For more information go to WhiteTrash BBQ.
The St. Mark Sports Association is a Brooklyn based non-sectarian sports program for boys and girls from ages 4-16. We provide children with the opportunity to play and learn competitive basketball, swimming and softball.
We also off a girl's cheerleading program. We are part of The Special Olympics, The Jr. NBA, The Jr. WNBA, CYO and The Brooklyn Children's Baseball and Basketball Association. We are a non-profit organization. We do not discriminate. All children living within our neighborhood are welcome into our programs. The St. Mark Sports Association also hosts NYC's only NEBS sanctioned barbeque related event each spring Grillin' on the Bay. Thank you for your support.